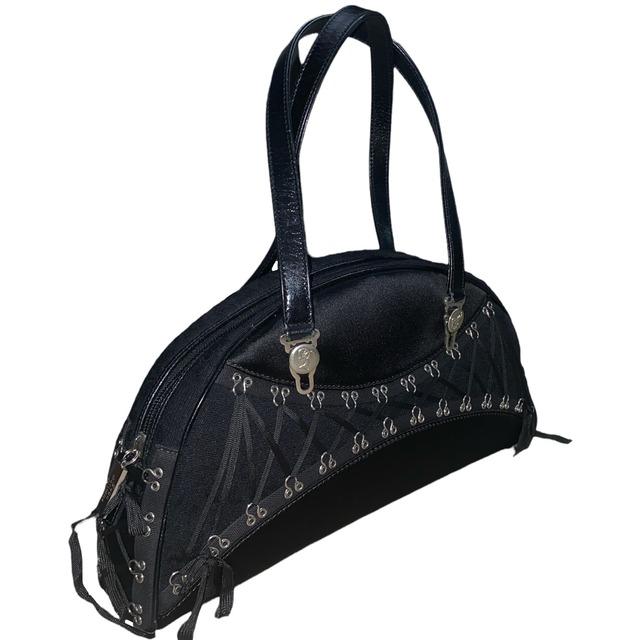 2000s JOHN GALLIANO LACED UP TOTE BAG
¥33,000($244.20) tax included
the last one
Payments will be paid in Japanese yen. The price in the foreign currency is a rough estimate.
Shipping fee is not included. More information.
SIZE:-
LENGTH:36cm
HEIGHT:19cm
WIDTH:7cm
CONDITION:8/10
COLOR:BLACK
MATERIAL:SILK/NYLON
WEIGHT:MEDIUM
COUNTRY OF ORIGIN:ITALY
DATE/SEASON:-early 2000s

ほとんど使用感の感じられない良好なコンディションです。

コルセットモチーフのレースアップが片面と両サイドに施されてデザイン。
一見ハードな雰囲気ですが少し光沢感のあるシルク地のおかげで、程よく上品な仕上がりです。

•実店舗でも販売しているため入れ違いで売り切れの場合があります。何卒ご了承ください。

•ご注文確定後のお客様都合のキャンセルはお受けできませんので気になることがあれば事前にお問い合わせください。

•we are selling products at our showroom as well.that means things sold out before we marked it on website once in a while.

•WE DO NOT GIVE REFUNDS UNDER ANY CIRCUMSTANCES after your order confirmed. don't be hesitate if you have a question.
Add to Like via app
Shipping method / fee

Payment method
¥33,000 ($244.20) tax included